Islamic Finance
Islamic Banking and Finance: A rapidly growing industry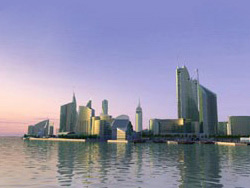 From a highly specialized niche market, Islamic finance has grown rapidly over the past three decades into a multi-billion dollar global industry working alongside its conventional counterpart. Expected to experience double-digit growth in the coming decades, Islamic finance exists in over 75 countries, offering a broad and sophisticated range of financial products and services, designed to meet the financial and theological needs of the global Muslim community.

The Islamic finance industry presents lucrative opportunities and has reached a stage where its market is not simply restricted to Muslim countries, as top tier global financial players are drawn to the industry and its reach expands to cover developed markets of Japan, Europe and North America.

The growth of Islamic banking and finance presents an exciting opportunity for both local and global financial and development institutions. AHI Islamic Financial Services can help you capitalize on opportunities offered by this dynamic and rapidly growing sector to develop your residential, commercial, health, industrial, transport, telecommunications, oil & gas, shipping and airlines turn-key projects and help your day to day export & import business (small, medium and large).

AHI is your advisor for progress in Islamic Finance.

AHI positioned as a specialist group within Al-Bassam family that caters to the specific needs of Islamic financial and development institutions requiring Islamic financial advisory services by offering 'turn-key' solutions, such as strategy development, operational framework and product development.

To its credit, AHI has been involved in the past four years, with assisting to establish the first Islamic fully Sharia compliant financial institution in Canada and looking forward in the near future to be involved in North and South America to enhance their understanding of Islamic banking and finance and to promote awareness in their respective markets.

AHI services take advantage of the globally recognized professional and non professional group that been structured in the past few years. AHI team consist of, Sharia supervisors, fund raising, consultants, advisors, corporate lawyers, banking lawyers, auditors and chartered accountants, tax specialists, market research, promotion, HR, PR, GR and IT infrastructures and telecommunication, specialists, software and hardware technical services providers, management and administrative.



AHI can provide you with the following services:



Advisory services and assist both Islamic and conventional financial institutions in structuring Sharia's compliant investment products, including obtaining the necessary product Fatwas.



Our close contacts with Islamic financial institutions, corporate and high net-worth individuals can be harnessed to enhance the investment placement capabilities with our associates in the Arabian Gulf countries.



Use of Reverse Murahaba or Wakala Structures for short or medium term funding.



Use of revolving or fixed profit Murabaha as a substitute for floating rate or fixed rate bonds.



Insurance of Sukuk al Ijara as an Islamic substitute for the commercial papers, such as bonds and debentures.



Structured products, such as real estate backed ljara, with Sharia-compliant leverage.


We also provide services such as:
Strategic Business Plans
Structure Finance
Market & Feasibility Studies
Business Development Plans
Business Restructuring
Risk Management Systems
Policies & Procedures
Regulatory
Implementation of Islamic Banking Solutions
IT & Communications Infrastructures

Kindly, for more info, please contact us.